This year, a major shift has begun to take place in the search landscape with possible new integrations of AI SEO and paid ads. ChatGPT utilizes artificial intelligence to provide concise, conversational answers to text prompts, and Microsoft's acquisition of ChatGPT for the Bing search engine has caused its competitor, Google to rapidly advance its own AI technology and incorporate it into search.
Google recently announced its exciting new development in this space: AI-powered search results in what is being called the AI search generative experience (SGE). This remarkable feature enables the tech giant to answer complex, specific queries with precision, effectively enhancing user experience. Before, ChatGPT users only had access to data limited to 2021, and Google's similar Bard experience had limitations that provided inaccurate information that appeared correct to a user without offering the necessary sources of information. Google's AI SGE not only offers comprehensive answers but also suggests subsequent queries for a more engaging, conversational search experience.
When a user enters a detailed search query such as "What's better for a family with kids under 3 and a dog, Bryce Canyon or Arches?", Google's AI supplies an informative snapshot of essential points to consider, accompanied by links for further exploration.
As you can see below the snapshot in the above image, the system prompts users with suggested follow-up questions, transporting them into a new, interactive search environment that remembers the context of their inquiries.
Transactional searches receive similar treatment. Ask Google for a "good bike for a 5-mile commute with hills," and you'll see personalized results. Users can even follow up with specific preferences, like the bike's color or type, and Google will refine the search results accordingly. The best part? You don't need to start your search anew, making this process remarkably similar to filtering options on an e-commerce website.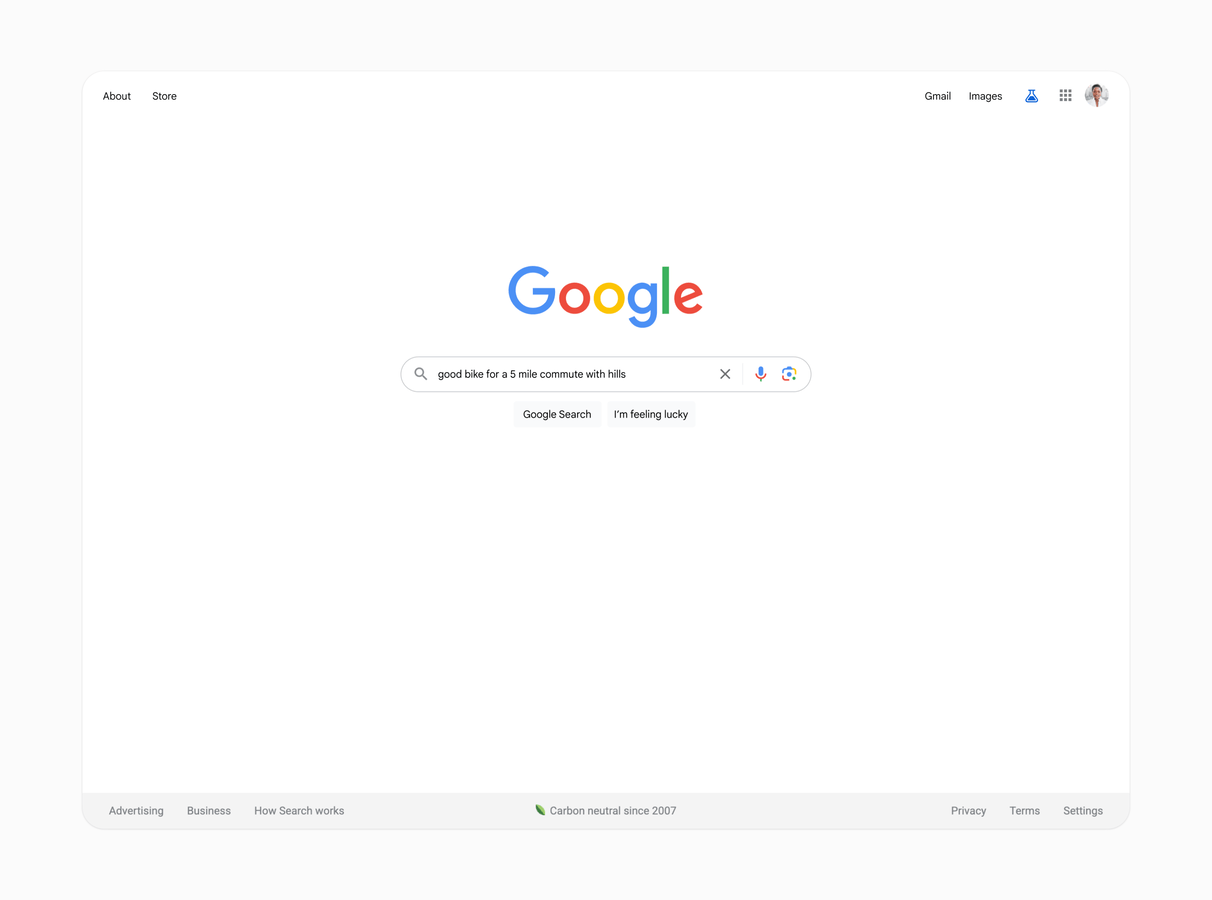 This new generative AI experience potentially signifies a shift in search behavior towards 'Answers' and 'Options'.
Answer searchers will lead to Google Bard, ChatGPT, Bing Chat, and possibly Apple Spotlight Search. Option searchers will lead to traditional search results which may provide an optional conversational module with AI-based suggestions, taking over position 0 (Google will cite the websites it used to help generate the answer).
The introduction of AI into Google's search engine promises to revolutionize results for long-tail search phrases, encouraging more users to employ these specific queries. This development could lead to higher conversion rates for sites ranking organically or via paid ads.
Consequently, strategies for optimizing upper-funnel content and featured snippets could become more crucial than ever. With zero-click results, ensuring your brand is cited when voice assistants and SGE results list their sources is paramount. Moreover, upper-funnel content tends to attract backlinks, reinforcing its importance in the current SEO landscape.
Google's recent tendency to replace titles adds another layer of complexity. It may necessitate more emphasis on the visual element if Google opts not to display a strategically crafted title tag designed to boost click-through rates. Similarly, Schema.org/ImageObject might turn into a significant factor if Google decides to rewrite listing titles, impacting which listing gets clicked on within the results.
Google's approach to integrating generative AI into search encompasses five key areas:
Google aims to streamline the search process, reducing the steps needed for users to achieve their goals.
Google prioritizes high-quality responses, ensuring the AI offers relevant and accurate answers.
The AI is designed to provide trustworthy answers while maintaining the user's safety and privacy.
Google continues to drive traffic and credit to content sources, encouraging users to delve deeper into these resources.
Google is exploring how to effectively integrate ads into this new search experience without disrupting user engagement.
Google is experimenting with integrating search and shopping ads into AI-based snapshot and conversational mode, as well as with new ad formats that integrate directly with the search generative experience.
Google is also releasing tools to help you create better ads that have higher conversion rates.
So let's say you want to create an ad for "cat food", Google will use it's AI to generate images and ads for you: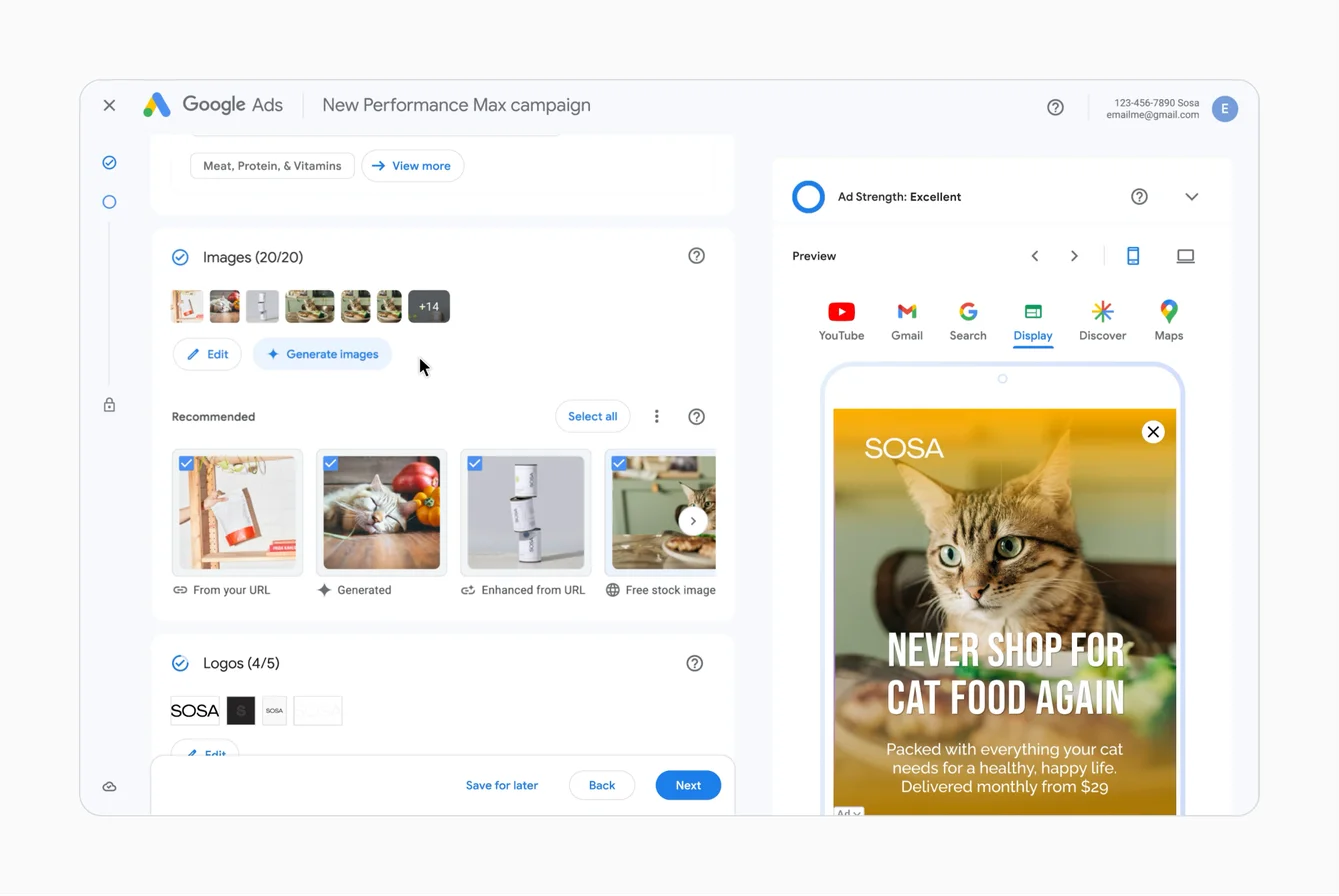 Sponsored listings will remain top results on the SERP, but since these are integrated into the AI search, it will be crucial to test engaging ad copy and offer quality destinations as the search engines continue to experiment with paid advertising formats in the AI search experience.
AI-powered search's impact on analytics and data reporting:
In the short-term, we are seeing many search engine updates that are causing fluctuations in results. We are expecting to see these search engine tests continue to increase over time in favor of helpful, informative content that aligns with the goal of these AI-powered search engines offering authoritative, quality information to users after the first query.
With the acquisition of ChatGPT from Bing, we are seeing an increase in Bing users, but the shift to this search engine is not large enough to make major changes to SEO strategy. Content is still a focal point of SEO strategy regardless of the search engine.
With Google's Universal Analytics sunsetting on July 1, 2023, GA4 is now the main resource for website traffic reporting. GA4 has made many adjustments to data tracking compared to Universal with the goal of reporting on more quality traffic, reflecting Google's goal of providing high-quality content in its AI SGE.
Creating quality, informative content as the most effective long-term strategy:
As AI continues to change the search experience for users, content remains the central point of SEO and paid ad strategy regardless of whether users will continue to use search engines or directly use AI tools themselves (especially since these AI tools gather data directly from the internet). Google and Bing's AI search will seek to provide users with more accurate answers and options that synthesizes information from varying sources, so Google and Bing search algorithms will continue to favor high-quality, informative, authoritative content. Quality content then feeds into the paid advertising strategy with more authoritative websites earning top sponsored positions and gaining more conversions over competitors. Testing varying ads is also recommended to maximize conversions in the long-term.
In conclusion, Google's AI-powered search engine signifies a shift in the SEO and paid ad landscapes. With enhanced search experiences, the focus now is to adapt and evolve to maximize visibility and conversions in this revolutionary digital era.